GENIMI - Reversible Hooded Dashiki Jacket Coat
$

98.00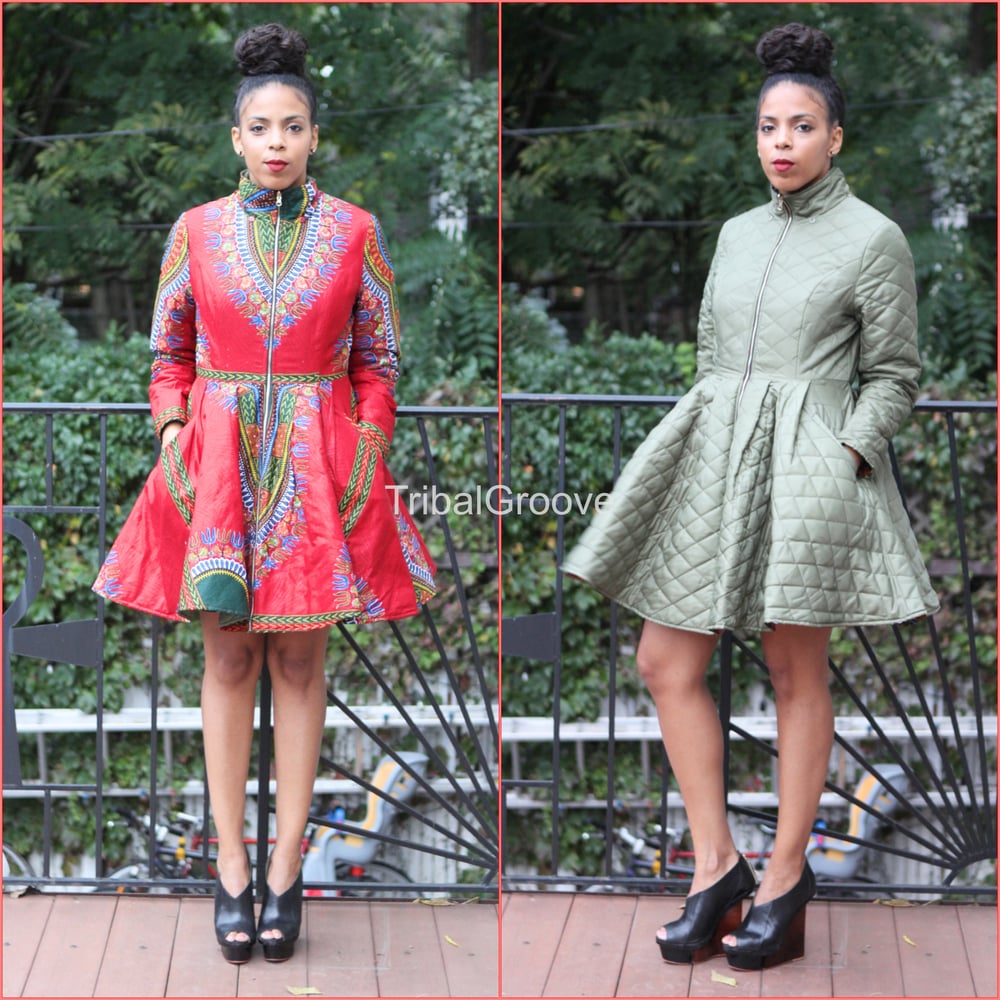 GEMINI - Detachable Hooded Burgundy Reversible Army Green/Dashiki Jacket/Dress - sale
Ready to ship from Brooklyn, NY within about 3-5 business days!
Two different looks...One coat!...Take the hood off and wear it on the olive green side...The next day wear it on the burgundy dashiki side!...Amazingly stylish and versatile!
Details:
completely reversible
one side army/olive green
one side dark burgundy African wax textured print dashiki fabric (colors may seem darker or lighter depending on your monitor)
detachable hood (buttons on and off!)
snaps in the front of detachable hood (will not snap easily with big hair)
reversible 2 way gold metal zipper
2 pockets on each side
100% cotton (dashiki side)
Nylon (army green side)
PLEASE REFER TO THE MEASUREMENTS:
US size 2-4 (SMALL)
bust 34-36
waist 26-28
hips 36-38
US size 8-10 (MEDIUM)
bust 38
waist 30-31
hips 40-41
US size 12-14 (LARGE)
bust 38-40
waist 32 -33
hips 42-44
XL US size 14-16 (EXTRA-LARGE)
bust 42-45
36 waist
46 hips
XXL (estimated size 18-20. Please check the measurements)
46-48 bust
41" waist
50" hips
We have a 3 day return policy for this item. Notify us of the return via email and provide us with the tracking number so that we can verify the return. Once the tracking shows 'delivered' and the item is found to be unworn, we will issue the refund. If you would like an exchange, notify us and we will let you know know if it is possible. Customers are responsible for the shipping of the exchanged item.
**Please note that each coat/dress is cut by hand. Therefore, no two items will have the same pattern placement.
Returns available within 3 days from receipt...tracking required to verify return.
Share